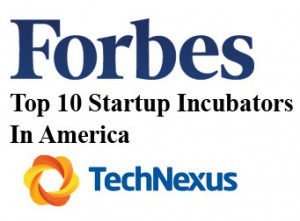 Forbes is out with their list of Top Incubators and Accelerators in America, and it includes TechNexus. When we opened this facility five years ago, we did everything we could to avoid being called an incubator. The term had lots of baggage, especially around Chicago where the idea had been tried and spectacularly fell short. And in a broader sense, in my mind business incubators were too often connected to universities or government. To any extent, the collaborative community, carefully curated to include leaders from big companies and entrepreneurs from young companies, was something entirely different than any other incubator we found at the time.
So instead we used lots of different terms to describe TechNexus… it was a "clubhouse" for the tech community, a "collaboration center", a "coworking spot". Anything, please, but an incubator. We built a space that today nearly 3,000 people a month flow through, the right mix of entrepreneurs and corporate leaders, engineers and investors. Very early on startups asked for dedicated space, to grow their business right in the middle of this nexus where tech leaders gathered. Soon we found ourselves mentoring and helping those young companies, and today more than 150 companies have grown at TechNexus.
We didn't set out to create an incubator, but arguably created the most successful incubator Chicago has yet seen. And there's a clear theme to the companies that have grown here: they tend to be business to business solutions, they get customers and revenue and they have sound (if not always sexy) business models. They benefit from the strong industry connections and experience of collaborators at TechNexus.
Today, incubators and accelerators (which are something different still) are popular and an important part of innovation, and the country (and Chicago) need plenty more of them. Our friends at Excellerate Labs in Chicago also made the list with their 3 month accelerator program, and we're thrilled for Troy and Sam and the entire Excellerate team to see their success.
And now TechNexus is comfortably growing to accept the success of our incubator, exploring ways to extend the ecosystem and make it more valuable to the collaborators. Stand by… or better still, get involved… we're just getting started, and are incredibly excited for our next five years.
TechNexus is really a catalyst for innovation and growth… at our best, we're aligning entrepreneurs, engineers and corporate partners and letting serendipity take over. Taking advantage of the opportunity an incubator or accelerator offers is really about placing yourself in the right place, and the right time, with the right people to help you succeed.