I just returned from a visit to Chicago Tech Academy and my first visit with an assembly of the 150 new freshmen… and I am inspired! This third class of students seems to be the most inquisitive, the most engaged and the most eager bunch of students I've met at the new high school.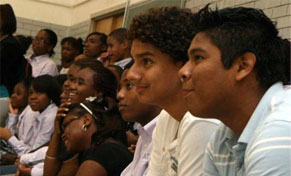 The reputation of ChiTech after the first two years and a targeted recruiting effort to find great potential students attracted a motivated group of kids. They were eager to learn about internships and mentors and careers they might enjoy; they had many questions about entrepreneurship and where the ideas and confidence come from to start companies. These new students asked about programming languages and video game design, about field trips they might take to local tech companies and about the people they might meet. They asked about using technology if they became doctors or architects.
I spoke to them about the power of voice to ideas. I talked about the voice of Bill Gates 30 years ago in defining the personal computer revolution; about the voices of engineers who pushed to interconnect computers in real-time, and of Andreessen and other college kids who designed the web browser not far from Chicago. I admired the voice of Steve Jobs as he introduced the iPad, and of Zuckerberg when he weaved a social network through hundreds of millions of people around the world.
We spoke with the students about the power of their own unique voice, and how it someday could be used to express ideas, explain solutions and inspire. We talked about the breakneck speed at which technology has given voice to a planet full of people, and how technology can flatten the world to bring people together, bound by common humanity instead of divided by differences. We talked about how now, like no time in history, they have an opportunity for their voice to be heard, and it may be because of experiences and lessons learned at Chicago Tech Academy.
This conversation about voice– to ideas, to inspiration, to expectations of themselves – begins a conversation that I hope will last through high school and beyond. I hope it will continue as the students meet mentors from Chicago's tech community, as they grow and mature and begin to look beyond their current circumstance. It's an innovative approach, to think of a ChiTech education as an extended conversation between disadvantaged students and an engaged community willing to share advantages… after three years, we're seeing some very inspiring results… you can hear it in their voices.